Keeping an Office Cutlery Set is a Small Step Towards a Big Win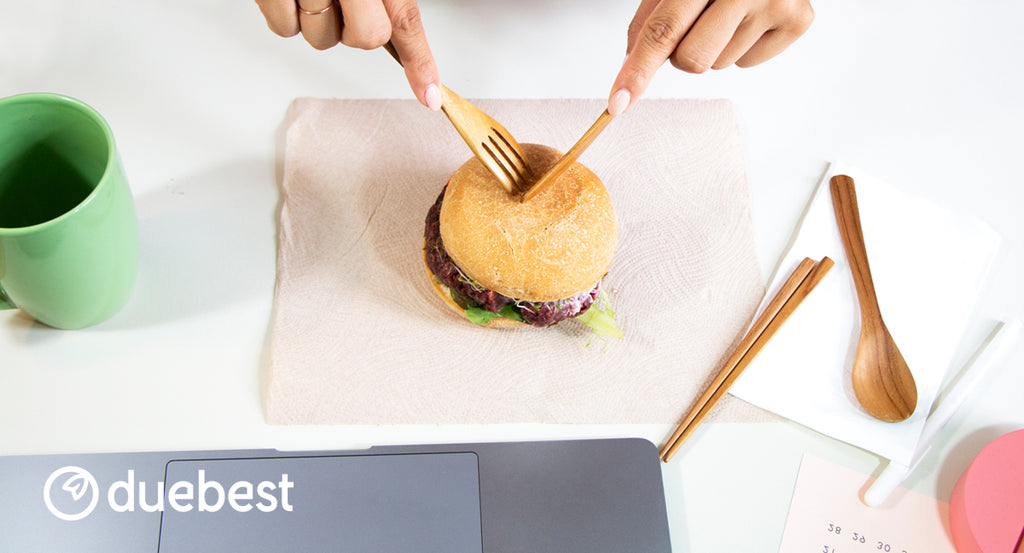 These days, there are so many ways to reduce waste in the workplace by utilizing sustainable materials for everyday objects such as water bottles, tote bags, and food containers. Some of the most commonly overlooked wasteful items, however, are single-use cutlery.
What is single-use cutlery?
Single-use cutlery refers to plastic spoons, forks, and knives that are designed to be used once and then thrown away. The United States alone disposes of around 40 billion single-use utensils every year; with numbers that high, you can imagine how many plastic utensils litter landfills worldwide. Plus, most single-use plastic items take hundreds of years to break down and even then are never truly gone from the ecosystem.
By now, most environmentally conscious people have replaced plastic water bottles, plastic lunch bags, and disposable takeout containers in the office with more sustainable replacements made of metal, wood, or glass. However, have you ever stopped to consider how many plastic utensils you use during your lunch break in a given week? Luckily, sustainably sourced and long-lasting reusable cutlery are now more accessible than ever and can help you reduce your plastic use in the workplace and beyond. In order to practice sustainability within your workplace just like you would at home, consider utilizing a reusable office cutlery set.
Why Keeping an Office Cutlery Set is the Way to Go
You'll reduce more plastic waste than you think
Since single-use cutlery is so small, it can be easy to underestimate the amount of waste created by these items. Think about it—most plastic cutlery comes in a set of fork, knife, spoon, and napkin within a thin plastic sheath. Many consumers only use one or two utensils from these packets, and even if they use every single item, 4 distinct pieces of single-use plastic are still being thrown away every time you eat a meal at work. You can eradicate this waste entirely by stashing your reusable Duebest cutlery set in your desk. It's lightweight, it won't take up much space, and the plastic savings will add up quickly.
It's healthier
Most single-use plastics are made using harmful chemicals like BPA and BPS. These chemicals can leach into your food and cause serious damage to your body's hormonal balances, particularly due to their estrogen-imitating capabilities. Additionally, BPA is known to cause other disruptions within the endocrine system such as increased risk of diabetes and decreased reproductive health. These kinds of risks aren't worth the small convenience that disposable utensils provide; make a positive choice for your health and the planet with a Duebest wooden cutlery set.  
You might influence others
The choices you make have a direct impact on those around you. For example, one of your coworkers might be looking for small changes they can make to reduce their personal plastic waste but weren't even aware that reusable cutlery was available before they noticed your reusable office cutlery set. Plus, your use of sustainable products could be a great conversation starter between close colleagues or even coworkers that don't know each other very well. Making positive choices for your own health and the health of the planet might just create a ripple effect throughout your workplace, encouraging people to make more environmentally conscious choices.
Out of office?
Whether you're working remotely or out exploring, the Duebest reusable wooden cutlery set is great for on the go! Drop it in your purse or throw it in a weekend backpack - Friday can never come soon enough!
About Duebest
Duebest began with two best friends over one bowl of egg noodles! We were at a restaurant in lower Manhattan when Daphne pulled out her own personal set of chopsticks. We never would have guessed that this small gesture would spark a whole chain of events! Today, we're doing our best to support the zero waste movement through our line of sustainably sourced products including our on-the-go reusable wooden cutlery set, reusable mesh produce bags, and our reusable glass straw with case.